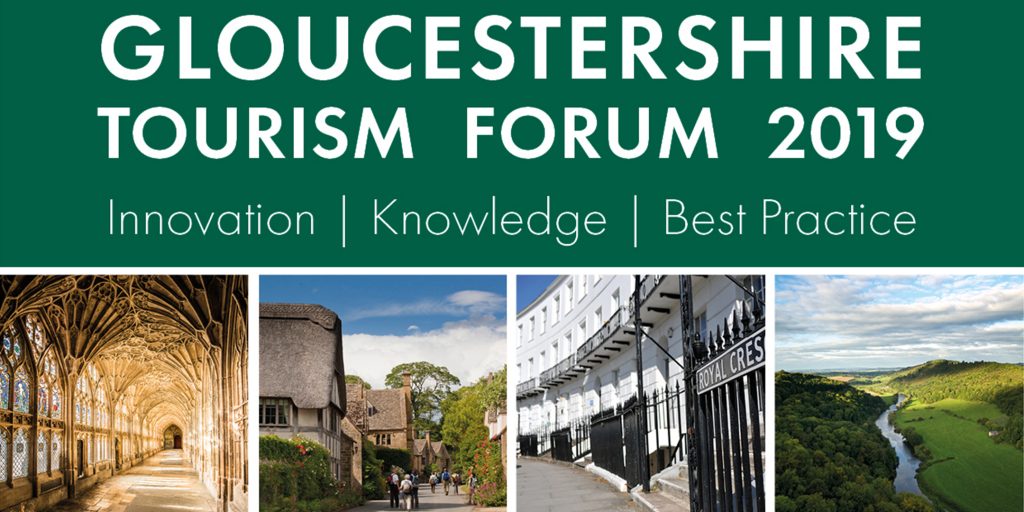 Thursday 31 January 2019 – 9.30am – 4.30pm
Kingsholm Rugby Stadium, Kingsholm Road, Gloucester, GL1 3AX
Join us at the 2019 Gloucestershire Tourism Forum that will bring together businesses working in the visitor economy.
9.30am – 10am
Registration, tea, coffee & biscuits
10am – 10.40am
Welcome from Cllr Paul James of Gloucester City Council, Jason Smith of Marketing Gloucester, Kelly Ballard from Marketing Cheltenham and Chris Jackson from Cotswolds Tourism
10.45am– 11.30am
Top Tips for Working with Bloggers and Influencers – Heather Cowper, Heatheronhertravels.com
The Changing Face of PR and How it Affects the Visitor Economy – Rich Leigh, Radioactive PR
11.30-11.45am
Coffee Break
11.45pm – 12.30pm
Accessible Tourism and Tapping into the Purple Pound – Christian Drewitt, Accessible Gloucestershire
Dementia Tourism – Deborah Matthews, Successful Stays
12.30pm -1.15pm
How VisitEngland Can Help Your Organisation and Future Tourism Trends  – Anke Monestel, VisitEngland
An introduction to VisitEngland's Business Advice Hub, consolidating online distribution channels plus insights on Gloucestershire's visitor economy.
Updates from DEF US Connections and Uncover the Cotswolds projects – Ben Hau, Marketing Gloucester & Sally Graff, Cotswolds Tourism
1.15pm – 1.45pm
Lunch
1.45pm – 2.15pm
The Tourism Sector Deal and the Importance of Collaborative Working – David Owen, GFirst LEP
2.15pm – 3.00pm
The Digital High Street – Jason Smith, Marketing Gloucester
Developing a marketing ecosystem crossing traditional and digital media to address the 'market of one'. Focusing on the GL Card – the UK's Best Digital High Street Project in 2018 – and how it can benefit your organisation.
Join the Conversation –  Polly Barnfield OBE, Maybe*
The customer journey has become more digital. Businesses and attractions must find new ways to keep up. Consumers now spend 5.8 years of their life on social media.
3.00pm – 3.15pm
Coffee Break
Seminars (Select two – 30 minutes each)
3.15pm – 3.45pm and 3.45pm – 4.15pm
Inspire Your Instagram – Dee Campling
Instagram as a social media platform is growing and growing. Users have doubled in the last two years to 800m weekly and the number of feeds that people follow is building fast.  Dee Campling is an Instagram influencer in the world of interiors who has grown her feed organically over the last two years to over 142,000. Dee is the co-founder of the first and biggest interiors hashtag, #myhomevibe, which has over a quarter of a million posts.
Creative Use of Digital Media – Ben Hau, Marketing Gloucester
Creating authentic and compelling video content for social media. And how to make life easier using free automated resources for promoting events to the public and the media.
Should Gloucestershire have a county wide Conference marketing and enquiry handling service? – Simon Richards, Convenus
The events sector is worth £42.3 billion to the UK economy in terms of direct spend by event delegates, attendees and organisers, with conferences and meetings accounting for – £19.9 billion of this total. Across the UK and Europe destinations are successfully attracting customers from out of area for this type of business.  Gloucestershire offers a wide variety of unique venues, experiences and accommodation – could a central marketing service with enquiry handling be established for Gloucestershire?
Introduction to Working with the Travel Trade – Mike Newman, b2me Tourism Marketing
Want to understand why and how to work effectively with the international travel trade? Want to access opportunities that will benefit your business? Or find out how to make an impact at sales missions and trade events? Gain a clearer picture of the industry and practical advice on how to make the most of the events you attend.
4.15pm – 4.30pm
Closing remarks
The Gloucestershire Tourism Forum is brought to you by Marketing Gloucester working in collaboration with Cotswolds Tourism, Marketing Cheltenham and Forest of Dean and Wye Valley. The event is supported by the Great Place scheme – a joint initiative by the Heritage Lottery Fund and Arts Council England, using funds raised from the National Lottery.