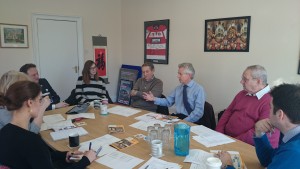 The Gloucester History Festival announce a new look committee to help the event grow from strength to strength. The new additions bring with them expertise in a range of fields from festival management and programming to archaeology and historical music.
Donna Renney (former Chief Executive of Cheltenham Festivals), Councillor Sebastian Field (historian and a choral singer with Ensemble Sine Nomine) and Emily Knight (new Events Co-ordinator at Marketing Gloucester with a background in archaeology) join the current organisers from Marketing Gloucester, Gloucester Civic Trust, Gloucester City Council and Richard Graham MP.
The Gloucester History Festival encompasses many local traditions such as the Gloucester Day parade (celebrating the lifting of the English Civil War Siege) and coincides with the national Heritage Open Days (of which Gloucester is the third largest event in the country).
The weeklong programme of History Talks cover subjects of local and national interest in the magnificently preserved Blackfriars Priory, and the festival works closely with Gloucester's museums to bring fun and educational activities for children and families.
Richard Graham MP said:
"I'm delighted that Donna Renney, with all her great experience of festivals in Gloucestershire has joined our committee. She will have a big impact on our programme and fund raising. I'm also pleased that chorister and Councillor, Sebastian Field has joined and will help shape the musical side of the History Festival, an area where we can do more.
2015 is a big year for Gloucester and the History Festival is no exception. The anniversary of the de Montfort Parliament and the challenges for the King crowned in Gloucester – Henry III – is important. Other key national anniversaries include Agincourt, the arrival of our Hanoverian kings in 1715, Waterloo, the Commonwealth contribution to World War I, the end of World War Two, the 50th anniversary of the death of Winston Churchill. There are other landmarks in our social history and together these are all moments in the past that affect us today. Our Festival will cover many of these and we look forward to announcing speakers soon".
Jason Smith said:
"Heritage tourism is growing rapidly in the UK and is a significant driver for visitors to Gloucester.  The annual History Festival has rapidly been established as one of the most important in the country and the new members of the team will help continue the growth of the festival.  I am very happy to be asked by Richard Graham to continue supporting the festival and delighted to be joined by people with such a wealth of experience on what is already an excellent committee.  I am confident that the 2015 festival will be the best yet."
Gloucester History Festival Committee in full:
Jason Smith (Marketing Gloucester) – Chief Executive
Richard Graham MP – Chairman
John Lovell (Gloucester Civic Trust) – Secretary
Donna Renney (GUST)
Sebastian Field (Gloucester City Council)
Sara h Gilbert (Gloucester City Council)
Ben Hau (Marketing Gloucester)
Emily Knight (Marketing Gloucester)
Phil Moss (Gloucester Civic Trust)
Colin Nyland (Gloucester Civic Trust)