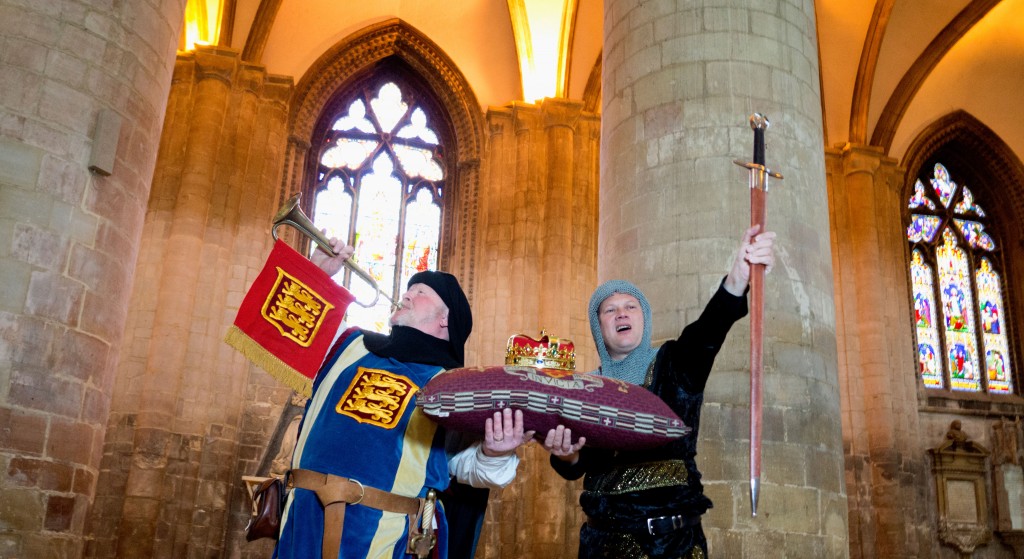 Marketing Gloucester and Gloucester Cathedral are searching for an 8 – 11 year old to play a very special part in a one-off event for the city – taking place on Saturday 10 September 2016. This year marks the 800th anniversary of the coronation of Henry III which took place in Gloucester Cathedral.
In 1216, a nine-year old Prince Henry, son of the infamous King John, was crowned at St Peter's Abbey (now Gloucester Cathedral). What makes this coronation special is that it was the last time an English or British monarch was crowned outside of Westminster Abbey in London.
To celebrate this remarkable piece of history, Marketing Gloucester (with support from Gloucester City Council) and Gloucester Cathedral are organising a themed event which includes an exciting, spectacular living history parade through the city centre to take the new king to the Cathedral, a re-enactment of the coronation in the Cathedral, a medieval market and a tournament on the Cathedral Green. The event is part of the Gloucester History Festival which takes place from Saturday 3 – Sunday 18 September.
The organisers are launching a search for a King in Gloucester, to find a suitable 8 – 11 year old who can play the part throughout the event. Parents, grandparents, carers and teachers are invited to nominate suitable children who would like to play a part in this once in a lifetime opportunity.
Send in a photo and complete the application form to be received by Thursday 30 June. Forms can be requested by emailing info@marketinggloucester.co.uk – or collected from the Tourist Information Centre, Southgate Street. The child:
must be able to be easily carried in the procession,
must live in Gloucester / Gloucestershire,
must be confident and able to learn a few lines,
must be available for clothes fittings in July / August,
must be available for rehearsals at the start of September,
must be available all day on Saturday 10 September,
must be happy to be included in the publicity such as news, radio and TV.
Lise Noakes, Cabinet Member for Culture and Leisure at Gloucester City Council said:
"The 800th anniversary of Henry III is incredibly important to Gloucester and indeed to the county. It's great that children will have an opportunity to play a starring role in the celebrations. The child who is chosen to be King is sure to have a day to remember."
Paul James, Leader of Gloucester City Council said:
"Gloucester has always been an important English city and this is demonstrated by its many royal connections. The coronation of Henry III is just one such link. I'm looking forward to celebrating this important anniversary and spreading the knowledge of Gloucester's rich heritage."
The Very Reverend Stephen Lake, Dean of Gloucester said:
"We are delighted that the whole City will be taking part in celebrating this historic occasion with a re-enactment of King Henry III's coronation procession. It will be a huge honour and privilege for the young boy chosen to play the starring role and he will be blessed with life-long memories of his day spent in the Boy King's shoes."
For more information contact info@marketinggloucester.co.uk
01452 207020.